Orthodontics for adults and children at the Cabinet Grande-Duchesse Charlotte. Classic/conventional with brackets, or with invisible transparent aligners.
To know : The CNS (Caisse Nationale de Santé) reimburses orthodontic treatment for French people and children of French people working in Luxembourg. As well as for Luxembourg citizens. Most mutual insurance companies reimburse adult orthodontics (invisalign type).
Cabinet Grande Duchesse Charlotte Dudelange Luxembourg – Dr. Arnould Tanson medecin-dentist and associates,
621 257 940
+352 26 52 15 30
48-52 avenue Grande Duchesse Charlotte L-3440 Dudelange, Luxembourg

Link to make an appointment online on Doctena: Prendre Rendez-vous

Orthodontic appliances are used to solve problems related to a lack of space for the evolution of teeth on the arches.
Some examples of cases treated:
Before-and-after orthodontic/invisible braces photos are displayed on this website to guide patients on the indications for treatment.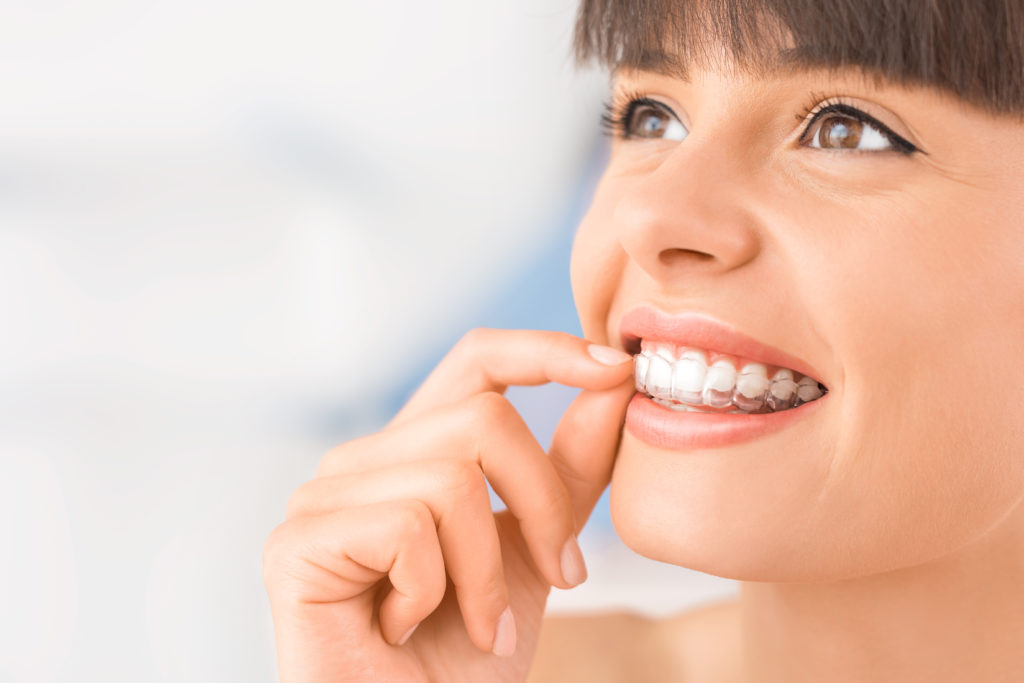 THERE IS NO « WRONG » AGE TO START ORTHODONTIC TREATMENT AND ALIGN CROOKED TEETH. THERE IS NO « WRONG » AGE TO START ORTHODONTIC TREATMENT AND ALIGN CROOKED TEETH, BUT THERE IS A WAY TO GET A GOOD BITE SO YOU CAN EAT PROPERLY AND HAVE ALIGNED TEETH.
Orthodontic appliances for children, interceptive braces and orthodontic brackets for adolescents.
The first consultation, recommended around the age of 5, 6 or 7, will determine whether or not the child needs orthodontic treatment, for example if he or she has a misalignment of the jaws or a lack of symmetry. If the upper teeth are very advanced, if the lower jaw does not perfectly match the upper jaw, or if there is a mismatch between the upper and lower teeth, braces are necessary.
If the child's jaw development is not sufficient to allow for a lack of space, it is important to act at the right time in relation to the growth to prevent the situation from getting worse.
Treatment by invisible transparent aligners : / aligners / orthodontics for adults / invisalign : the advantages of invisalign :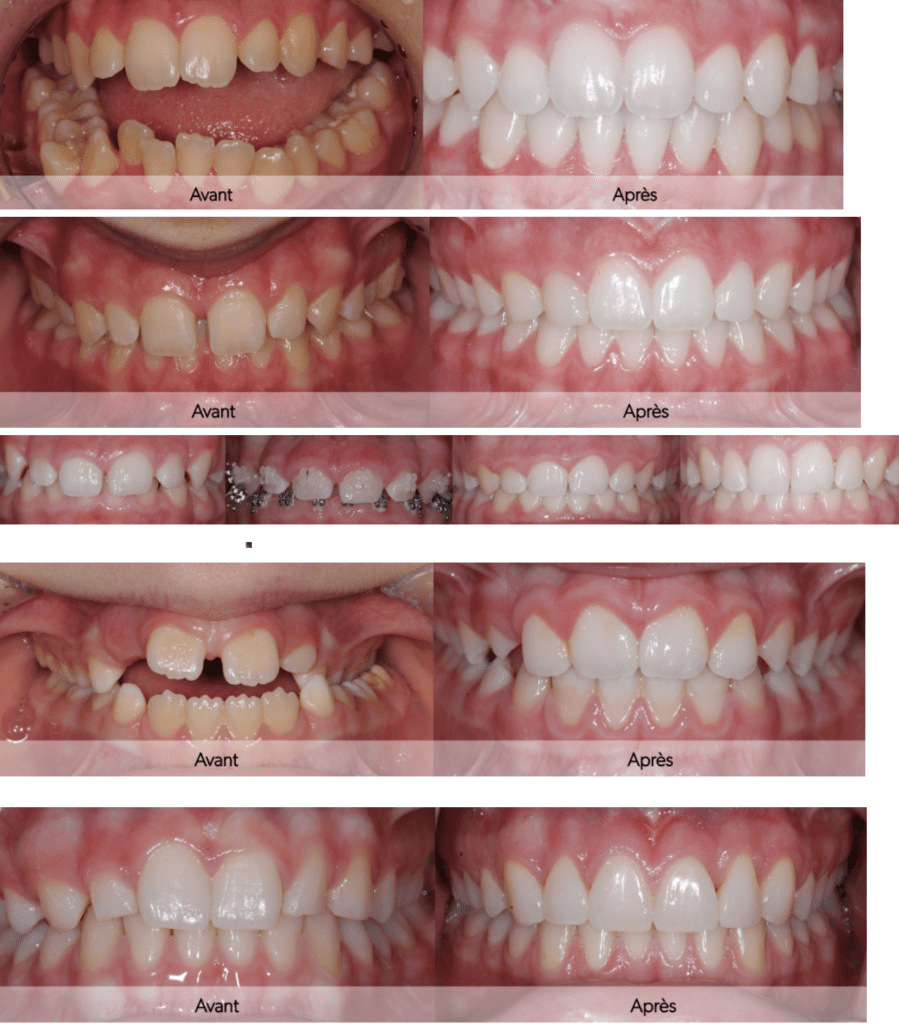 Invisible, aesthetic
The first advantage of the transparent aligners / invisible smilers is its discretion. Indeed, the use of removable gutters in thermoplastic makes them almost invisible, because transparent. The aesthetic result is therefore much better than that of braces. This discretion allows adults in particular to take the plunge more easily, something they would not have done in the past for fear that the unsightliness of braces would interfere too much in their daily lives. The treatment is very aesthetic, not very embarrassing, and will perfectly correct your teeth that are crooked, in order to regain a good occlusion, find a smile that you like, a proper chewing, and limit the neck pain and headaches that can come from a dental malocclusion.
Removable
The invisible orthodontic device for adults with transparent aligners is completely removable. In fact, you can remove your aligners yourself to eat, drink, and maintain a good daily dental hygiene, but you will have to wear them almost all day to obtain the desired result. You will be able to eat and drink what you want because at mealtime you must remove the aligners. You won't have to suffer from the dietary constraints associated with traditional braces. No stuck food, no injuries.
Comfortable, no pain, no injury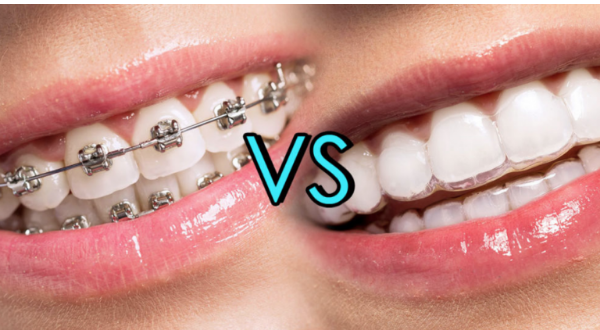 More comfort for patients. Thanks to its custom-made design, the clear aligners fit perfectly in the patient's mouth and teeth for maximum comfort. There is no risk of irritation or injury because the aligners are made of thermoplastic (a flexible material), unlike traditional orthodontic appliances made of metal wires that are more rigid and injurious to the patient's mouth.
Prices / Rates for invisible adult orthodontics : / invisalign / treatment with transparent aligners in Luxembourg :
The price of orthodontic treatment varies according to the duration of the treatment, the difficulty of the treatment / number of aligners required, and the present tooth shift / crooked teeth. Orthodontics is reimbursed by most health insurance companies, including for cross-border workers. The price of orthodontic treatment starts at around 100€ per month (reimbursement by mutual insurance company and CNS / social security) and varies according to the choice of treatment: metal braces, ceramic brackets, or aesthetic orthodontic treatment with invisible transparent aligners. Payment of the price of the semester of orthodontic treatment is possible in several installments. An invisible orthodontic treatment to correct one or two teeth can last up to 6 months and will inevitably cost less than a more complex treatment with more aligners. Each case is unique and requires a clinical analysis.
Payment is possible in several instalments, free of charge.
You can also contact the dental office by phone: +352 26 52 15 30 or +352 621 257 940 or Prendre Rendez-vous online.
Address of the office :
48-52 avenue Grande Duchesse Charlotte L-3440
Dudelange, Luxembourg
The office is located 5 min by car from Volmerange Les Mines. 20min from Thionville by car, for border workers.
The office is located near the train station and is accessible by bus (stop Dudelange Strutzbierg). Direct route from Bettembourg station. 20min from Luxembourg city and Thionville.
Large free parking lot near the office. Disabled and elderly access.
For any information or orthodontic consultation for invisalign treatment (invisible aligners) or conventional orthodontics for adults or children, do not hesitate to make an appointment at the Grande-Duchesse Charlotte practice in Dudelange.
– The practice is equipped with a device against infectious bacteria and coronavirus.
Air quality certification. IQAir high efficiency air purification system.
– 99% effective against VOC2-Covid19 and infectious bacteria.
– All personnel working in the dental office are vaccinated against COVID-19.
– The instruments used are sterilized with a ɣ-sonic device.
– Disinfection of the chair and work surface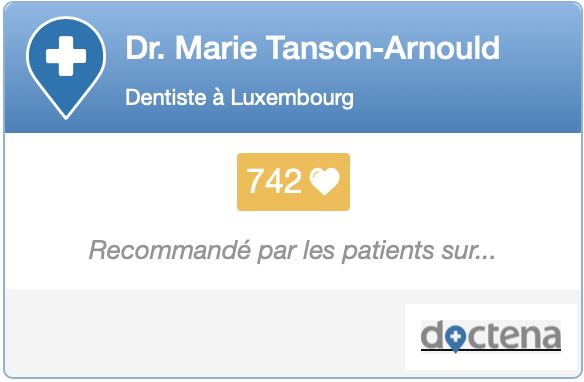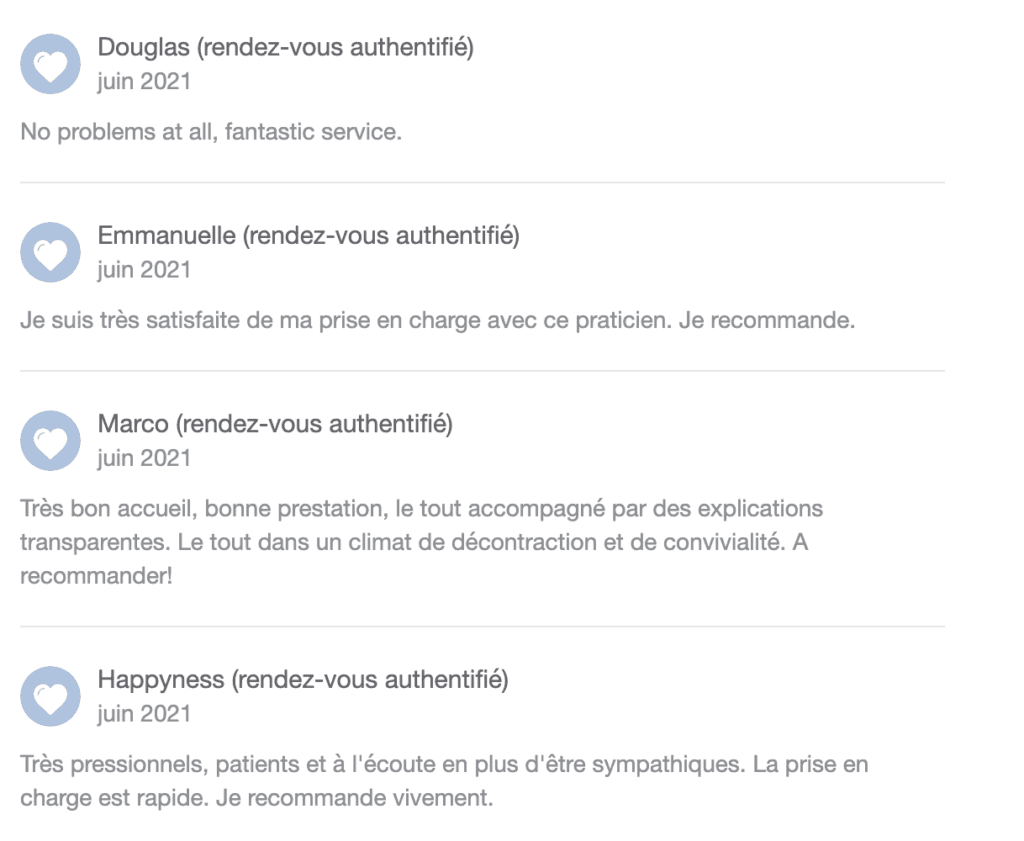 Prendre Rendez-vous online.